Newsroom
MS drug makes cancer-fighting viruses more effective in lab models
February 7, 2018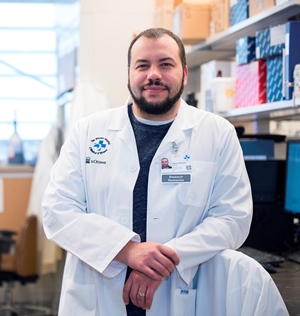 A drug used to treat multiple sclerosis and psoriasis can dramatically enhance the spread of cancer-fighting viruses in human tumour samples and animal models, according to a study published in Science Translational Medicine. A team led by Dr. Jean-Simon Diallo found that dimethyl fumarate, or DMF, helps cancer-fighting viruses spread by blocking the tumour's normal immune response to viruses. Pretreating cancer cells with DMF enhanced infection of human and mouse tumour samples by 10 to 100-fold. This combination therapy was even effective in tumours that are usually resistant to cancer-fighting viruses. Mouse models treated with the combination had delayed tumor progression and lived significantly longer than when each therapy was used separately. The combination therapy also cured 20 percent of the animals in a model of colon cancer, and caused them to become immune to that kind of cancer in the future. As cancer-fighting viruses already being tested in humans, and DMF is already an approved treatment, a clinical trial could be designed relatively quickly.

Authors: Mohammed Selman, Paula Ou, Christopher Rousso, Anabel Bergeron, Ramya Krishnan, Larissa Pikor, Andrew Chen, Brian A. Keller, Carolina Ilkow, John C. Bell, Jean-Simon Diallo.

Funding: Dr. Diallo's research is supported by generous donors to The Ottawa Hospital. This study was also supported by The Terry Fox Foundation, the Canadian Cancer Society, the Canadian Institutes of Health Research, the Government of Ontario, and BioCanRx.


The Ottawa Hospital: Inspired by research. Driven by compassion
The Ottawa Hospital is one of Canada's largest learning and research hospitals with over 1,100 beds, approximately 12,000 staff and an annual budget of over $1.2 billion. Our focus on research and learning helps us develop new and innovative ways to treat patients and improve care. As a multi-campus hospital, affiliated with the University of Ottawa, we deliver specialized care to the Eastern Ontario region, but our techniques and research discoveries are adopted around the world. We engage the community at all levels to support our vision for better patient care. See www.ohri.ca for more information about research at The Ottawa Hospital.
University of Ottawa: —A crossroads of cultures and ideas
The University of Ottawa is home to over 50,000 students, faculty and staff, who live, work and study in both French and English. Our campus is a crossroads of cultures and ideas, where bold minds come together to inspire game-changing ideas. We are one of Canada's top 10 research universities—our professors and researchers explore new approaches to today's challenges. One of a handful of Canadian universities ranked among the top 200 in the world, we attract exceptional thinkers and welcome diverse perspectives from across the globe. www.uottawa.ca
Media Contact
Amelia Buchanan
Senior Communication Specialist
Ottawa Hospital Research Institute
Office: 613-798-5555 x 73687
Cell: 613-297-8315
ambuchanan@ohri.ca