Newsroom
Antidepressants and exercise in stroke recovery: surprising results from new mouse study
March 2, 2018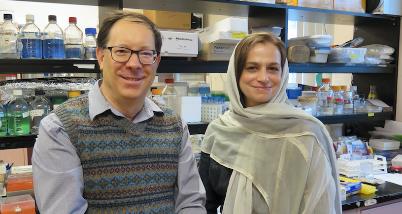 Exercise and selective serotonin reuptake inhibitors (SSRIs) are effective in treating certain kinds of depression, but little research has tested them together in post-stroke depression, which affects 20 to 80 percent of stroke survivors. Drs. Paul Albert and Faranak Vahid-Ansari investigated this using a novel mouse model they developed for this condition. Surprisingly, they found exercise had no impact on depression, but SSRIs had a much greater impact than expected. In addition to completely eliminating depression and anxiety, SSRIs also completely restored learning and memory. Further studies revealed that stroke caused an imbalance in brain activity in this model, which was rebalanced by the SSRIs but not exercise. This research provides new excitement about possible use of antidepressants to improve memory after a stroke. It also provides a new understanding of which regions of the brain might benefit from brain stimulation after a stroke. Dr. Albert and his team hope to test this in the near future. See Neurotherapeutics for details.

Funders: This research was possible because of generous donations to research at The Ottawa Hospital. This study was also funded by the Canadian Institutes of Health Research and the Heart and Stroke Foundation Canadian Partnership for Stroke Recovery.


The Ottawa Hospital: Inspired by research. Driven by compassion
The Ottawa Hospital is one of Canada's largest learning and research hospitals with over 1,100 beds, approximately 12,000 staff and an annual budget of over $1.2 billion. Our focus on research and learning helps us develop new and innovative ways to treat patients and improve care. As a multi-campus hospital, affiliated with the University of Ottawa, we deliver specialized care to the Eastern Ontario region, but our techniques and research discoveries are adopted around the world. We engage the community at all levels to support our vision for better patient care. See www.ohri.ca for more information about research at The Ottawa Hospital.
University of Ottawa: —A crossroads of cultures and ideas
The University of Ottawa is home to over 50,000 students, faculty and staff, who live, work and study in both French and English. Our campus is a crossroads of cultures and ideas, where bold minds come together to inspire game-changing ideas. We are one of Canada's top 10 research universities—our professors and researchers explore new approaches to today's challenges. One of a handful of Canadian universities ranked among the top 200 in the world, we attract exceptional thinkers and welcome diverse perspectives from across the globe. www.uottawa.ca
Media Contact
Jennifer Ganton
Director, Communications and Public Relations
Ottawa Hospital Research Institute
Office: 613-798-5555 x 73325
Cell: 613-614-5253
jganton@ohri.ca