Newsroom
$5.5 million to help save lives when the heart stops and standardize care for rapid heartbeat
March 9, 2018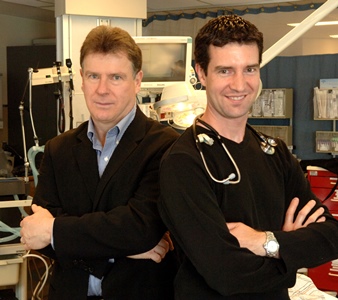 Two national projects led by Ottawa emergency medicine researchers received a total of $5.5 million from the Cardiac Arrhythmia Network of Canada (CANet) and matching funders. Dr. Christian Vaillancourt's team* aims to help 9-1-1 communication officers save the lives of more people who experience cardiac arrest. About a quarter of individuals whose hearts stop suddenly will gasp for air, which can fool 9-1-1 callers and communication officers into delaying life-saving CPR. Dr. Vaillancourt's team will test whether a piloted educational tool can help 9-1-1 communication officers recognize cardiac arrest when abnormal breathing is present, and improve survival rates across Canada. Dr. Ian Stiell's team** aims to standardize care for patients with acute atrial fibrillation so that most patients with this irregular heart beat are treated in emergency departments and discharged home without needing to be hospitalized. Dr. Stiell's team will test new guidelines they helped developed in 10 Canadian hospitals with the goal of decreasing hospitalizations for atrial fibrillation by at least 20 percent. See CANet news release for details.

*Co-investigators: Ian Blanchard, Jamie Brehaut, Manya Charette, Jim Christenson, Kathryn Cyr Katie Dainty, Paul Dorian, Michael Feldman, Judah Goldstein, Stephanie Hodges, Colette Lacroix Shannon Leduc, Laurie Morrison, Matthew Spidel, Monica Taljaard, John Tallon, Venkatesh Thiruganasambandamoorthy, Sandra Zambon. Funding: $718,600 from CANet, $3 million in matching funds.

**Co-investigators: Debra Eagles, Warren Cheung, Jeff Perry, Venkatesh Thiruganasambandamoorthy, Jeremy Grimshaw, Ian Graham, Monica Taljaard, Jamie Brehaut, Justin Presseau, Paul Angaran, Patrick Archambault, Clare Atzema, Kerstin de Wit, Marc Deyell, Frank Scheuermeyer, Alain Vadeboncoeur, Paul Atkinson, Ravi Parkash, Eric Letovsky, Kirk Magee, Eric Mercier, Judy Morris. Funding: $506,300 from CANet, $1.03 million in matching funds.

Emergency medicine research is possible because of generous support for Research to Improve Patient Care at The Ottawa Hospital.


The Ottawa Hospital: Inspired by research. Driven by compassion
The Ottawa Hospital is one of Canada's largest learning and research hospitals with over 1,100 beds, approximately 12,000 staff and an annual budget of over $1.2 billion. Our focus on research and learning helps us develop new and innovative ways to treat patients and improve care. As a multi-campus hospital, affiliated with the University of Ottawa, we deliver specialized care to the Eastern Ontario region, but our techniques and research discoveries are adopted around the world. We engage the community at all levels to support our vision for better patient care. See www.ohri.ca for more information about research at The Ottawa Hospital.
University of Ottawa: —A crossroads of cultures and ideas
The University of Ottawa is home to over 50,000 students, faculty and staff, who live, work and study in both French and English. Our campus is a crossroads of cultures and ideas, where bold minds come together to inspire game-changing ideas. We are one of Canada's top 10 research universities—our professors and researchers explore new approaches to today's challenges. One of a handful of Canadian universities ranked among the top 200 in the world, we attract exceptional thinkers and welcome diverse perspectives from across the globe. www.uottawa.ca
Media Contact
Amelia Buchanan
Senior Communication Specialist
Ottawa Hospital Research Institute
Office: 613-798-5555 x 73687
Cell: 613-297-8315
ambuchanan@ohri.ca