Newsroom
Can tiny bits of cells in the blood help track the progress of spinal muscular atrophy?
April 11, 2018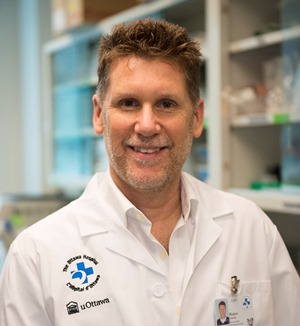 Dr. Robin Parks was awarded $150,000 from CureSMA to see if tiny bits of cells called exosomes can be used to track how spinal muscular atrophy (SMA) progresses and responds to treatment. SMA is the number one genetic cause of death in infants. Debilitating and often fatal muscle weakness is caused by a lack of a protein called SMN. It has been suggested that treatment for SMA may be more successful if delivered as early as possible. However, it is difficult to measure whether experimental treatments are working in very young babies without a biological test. Dr. Parks' team previously found that exosomes naturally released into the blood contain similar levels of SMN protein as the affected nerve and muscle cells. This funding will allow them to continue to explore the practicality and accuracy of analyzing SMN protein levels using exosomes.

Co-investigators: Jodi Warman Chardon, Hugh McMillan, Rashmi Kothary, Chris Lorson

This research is done in collaboration with CHEO and the University of Missouri. Dr. Parks' research is possible because of generous support for Regenerative Medicine at The Ottawa Hospital.


The Ottawa Hospital: Inspired by research. Driven by compassion
The Ottawa Hospital is one of Canada's largest learning and research hospitals with over 1,100 beds, approximately 12,000 staff and an annual budget of over $1.2 billion. Our focus on research and learning helps us develop new and innovative ways to treat patients and improve care. As a multi-campus hospital, affiliated with the University of Ottawa, we deliver specialized care to the Eastern Ontario region, but our techniques and research discoveries are adopted around the world. We engage the community at all levels to support our vision for better patient care. See www.ohri.ca for more information about research at The Ottawa Hospital.
University of Ottawa: —A crossroads of cultures and ideas
The University of Ottawa is home to over 50,000 students, faculty and staff, who live, work and study in both French and English. Our campus is a crossroads of cultures and ideas, where bold minds come together to inspire game-changing ideas. We are one of Canada's top 10 research universities—our professors and researchers explore new approaches to today's challenges. One of a handful of Canadian universities ranked among the top 200 in the world, we attract exceptional thinkers and welcome diverse perspectives from across the globe. www.uottawa.ca
Media Contact
Amelia Buchanan
Senior Communication Specialist
Ottawa Hospital Research Institute
Office: 613-798-5555 x 73687
Cell: 613-297-8315
ambuchanan@ohri.ca