Newsroom
New research could explain why cells grow out of control in rare lung disease
May 9, 2018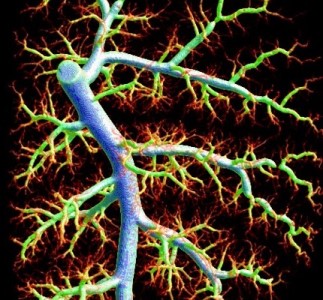 When cells grow out of control in the body, most people think of cancer, but this phenomenon also occurs in pulmonary arterial hypertension (PAH), a rare and deadly disease characterized by very high pressure in the arteries that supply blood to the lungs. New research co-led by Dr. Duncan Stewart may help explain why. Dr. Stewart and his colleagues found that people with PAH have high levels of a protein called translationally controlled tumour protein (TCTP) in their plasma. Using laboratory models of PAH, they also showed that when certain blood vessel cells die, they transfer this protein to other cells in the lung via tiny particles called exosomes. This causes the cells to replicate much more than normal. This research could lead to new therapies as well as a possible blood biomarker to track the progress of PAH in patients. See the American Journal of Respiratory Cell and Molecular Biology for details.

Photo: MicroCT of rat lungs with PAH, courtesy of Dr. Ketul Chaudhary and Yupu Deng.

Authors: Ferrer E, Dunmore BJ, Hassan D, Ormiston ML, Moore S, Deighton J, Long L, Yang XD, Stewart DJ, Morrell NW.

Acknowledgements: This research was co-led by Dr. Nicholas Morrell at the University of Cambridge and Dr. Duncan Stewart at The Ottawa Hospital and the University of Ottawa. This research was supported by generous donors to Regenerative Medicine Research at The Ottawa Hospital, as well as the British Heart Foundation, Societat Catalana de Pneumologia, the Canadian Institutes of Health Research and the Cambridge National Institute for Health Research Biomedical Research Centre.


The Ottawa Hospital: Inspired by research. Driven by compassion
The Ottawa Hospital is one of Canada's largest learning and research hospitals with over 1,100 beds, approximately 12,000 staff and an annual budget of over $1.2 billion. Our focus on research and learning helps us develop new and innovative ways to treat patients and improve care. As a multi-campus hospital, affiliated with the University of Ottawa, we deliver specialized care to the Eastern Ontario region, but our techniques and research discoveries are adopted around the world. We engage the community at all levels to support our vision for better patient care. See www.ohri.ca for more information about research at The Ottawa Hospital.
University of Ottawa: —A crossroads of cultures and ideas
The University of Ottawa is home to over 50,000 students, faculty and staff, who live, work and study in both French and English. Our campus is a crossroads of cultures and ideas, where bold minds come together to inspire game-changing ideas. We are one of Canada's top 10 research universities—our professors and researchers explore new approaches to today's challenges. One of a handful of Canadian universities ranked among the top 200 in the world, we attract exceptional thinkers and welcome diverse perspectives from across the globe. www.uottawa.ca
Media Contact
Jennifer Ganton
Director, Communications and Public Relations
Ottawa Hospital Research Institute
Office: 613-798-5555 x 73325
Cell: 613-614-5253
jganton@ohri.ca