Newsroom
Dr. Paul Albert recognized for ground-breaking discoveries in mental health
July 11, 2017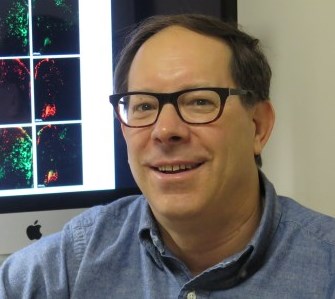 Dr. Paul Albert has received the top research award from the Canadian College of Neuropsychopharmacology (the Heinz Lehmann Award) for his "outstanding and innovative research" in mental health.

Nearly 30 years ago, Dr. Albert performed the first detailed studies on two genes that play a key role in how brain cells talk to each other (the serotonin and dopamine receptor genes). He went on to show that mutations in the serotonin receptor gene are associated with depression, suicide and reduced response to antidepressants, and he dissected the underlying molecular pathway. His research could lead to new treatments for depression that could be tailored to a patient's genetic profile. Dr. Albert is also investigating innovative approaches to treat post-stroke depression.

According to one of the nomination letters for the award, Dr. Albert "has made huge and lasting contributions to neurophyschopharmacology in Canada and worldwide."

According to Dr. Albert, the award reflects the hard work and dedication of his many trainees over the years.

Dr. Albert is a Senior Scientist and Associate Scientific Director of the Neuroscience Program at The Ottawa Hospital's Research Institute. He is also a Professor with the University of Ottawa Brain and Mind Research Institute and holds the Canadian Institutes of Health Research / Novartis Michael Smith Chair in Neuroscience.


The Ottawa Hospital: Inspired by research. Driven by compassion
The Ottawa Hospital is one of Canada's largest learning and research hospitals with over 1,100 beds, approximately 12,000 staff and an annual budget of over $1.2 billion. Our focus on research and learning helps us develop new and innovative ways to treat patients and improve care. As a multi-campus hospital, affiliated with the University of Ottawa, we deliver specialized care to the Eastern Ontario region, but our techniques and research discoveries are adopted around the world. We engage the community at all levels to support our vision for better patient care. See www.ohri.ca for more information about research at The Ottawa Hospital.
University of Ottawa: —A crossroads of cultures and ideas
The University of Ottawa is home to over 50,000 students, faculty and staff, who live, work and study in both French and English. Our campus is a crossroads of cultures and ideas, where bold minds come together to inspire game-changing ideas. We are one of Canada's top 10 research universities—our professors and researchers explore new approaches to today's challenges. One of a handful of Canadian universities ranked among the top 200 in the world, we attract exceptional thinkers and welcome diverse perspectives from across the globe. www.uottawa.ca
Media Contact
Jennifer Ganton
Director, Communications and Public Relations
Ottawa Hospital Research Institute
Office: 613-798-5555 x 73325
Cell: 613-614-5253
jganton@ohri.ca