Newsroom
Outstanding research on display at the Ottawa Hospital Research Institute's 17th annual Research Day
November 10, 2017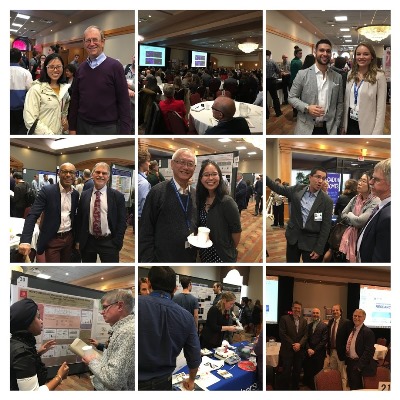 The Ottawa Hospital Research Institute's 17th annual Research Day was a great success, with over 400 attendees packing the St. Elias Centre to capacity.

Designed to highlight and celebrate the outstanding work of trainees and promote scientific interaction, the event featured 177 posters (with 148 competing for prizes) and 15 oral presentations.

Drs. Duncan Stewart, Jack Kitts, Sylvain Charbonneau, Ruth Slack and Fraser Scott set the stage with introductory remarks, while Drs. John P.A. Ioannidis and Marco A. Marra gave the keynote lectures.

Prizes were awarded to the following trainees:


Oral Presentation Competition:
1st: Marissa Lithopoulos (Thébaud group)
Remote Organ Injury: Neural Progenitor Cells Are Impaired in Experimental Bronchopulmonary Dysplasia
Co-authors: Shumei Zhong, Liqun Xu, Arul Vadivel, Lannae Strueby, Chanèle CyrDepauw, Ruth Slack, Jing Wang, Diane Lagace, Baptiste Lacoste, Bernard Thébaud
2nd: Oliver Varette (Jean-Simon Diallo group)
Exploring Novel Enhancers of Autologous Tumour Vaccine Strategies
Co-authors: Fanny Tzelepis, Mohammed Selman, Andrew Chen, Rebecca Auer & Jean-Simon Diallo
3rd: Larissa Shamseer (Moher group)
Opening Pandora's box: assessing what's published in predatory journals
Co-authors: David Moher, Kelly D Cobey, Manoj M Lalu, James Galipeau, Marc T Avey, The STudy Reporting In Predatory journals (STRIP) Group
Postdoctoral and Clinical Fellow Poster Competition:
1st: Brittany Glynn (Poulin group)
Understanding High Frequency Use of the Emergency Department (ED) for Chronic Pain Patients: Results from a Qualitative Study exploring Patient Experiences and Cost Effective Health Care Solutions
Co-authors: Madeleine Brule, Heather Romanow, Yaad Shergill, Catherine Smyth & Patricia Poulin
2nd: Atefeh Abedini Najafabadi (Vanderhyden group)
Conditional Inactivation of Lats1/2 in Mouse Ovarian Surface Epithelium Results in High Grade Serous Carcinoma
Co-authors: Omar Salah Salah, Curtis McCloskey, Manijeh Daneshmand, Mayra Tsoi, Derek Boerboom and Barbara Vanderhyden
3rd: Marie-Claude Sincennes (Rudnicki group)
PAX7 function in satellite cells is regulated by acetylation Co-authors: Tabitha Rosembert, Caroline E. Brun, Yoichi Kawabe, Michael A. Rudnicki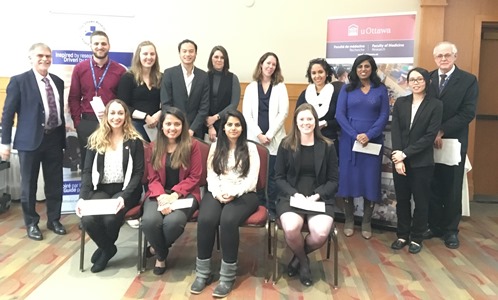 PhD and MD/PhD Student Poster Competition:
1st: Samantha Kornfeld (Kothary group)
MiR-145-5p negatively regulates oliodendrocyte differentiation and myelin production – insights into remyelination failure in progressive multiple sclerosis
Co-authors: S.R. Bonin, S. E. Cummings, S. Fathi & R. Kothary
2nd: William Chen (Rudnicki group)
Identification of Small Molecule Modulators of Satellite Stem Cell Asymmetric Division using a Novel In-niche High Content Analysis Platform
Co-authors: Yu Xin (Will) Wang, Michael Rudnicki
3rd: Bratati Saha (Parks group)
Identification of novel pharmacological targets and small molecules inhibiting adenovirus replication
Co-authors: Oliver Varette, Jean-Simon Diallo and Robin J. Parks
Master's and other trainees Poster Competition (includes medical students, residents, 4th year honours students, co-op students):
1st: Amelia Aitken (Bell group)
New strategies to improve oncolytic virus therapy
Co-authors: Bastin D, Pelin A, Roy D, Huh M, Pikor L, Bourgeois-Daigneault M, Bell J, Ilkow C
2nd: Nathaniel Noblett (Colavita group)
A role for dip-2 (Disco-Interacting Protein 2 homolog) in neuronal migration and maintenance of neuronal morphology.
Co-authors: Zhao Hua Ding, Tony Roenspies, Stephane Flibotte and Antonio Colavita
3rd: Charvi Syal (Wang group)
Epigenetic regulation of lipid metabolism in determining neural stem cell fate
Co-authors: Sailendra Nath Sarma, Matthew Seegobin, Jacob Thomas, Jing Wang
Dr. Goodman Cohen Summer Student Award:
Senior Award: Allyson Banville (Auer group)
Enhancing the Immunogenicity of an Infected Cell Vaccine
Junior Award: Anna Munro (Allan group)
Obstetrical factors associated with increased mobilization of hematopoietic progenitor cells in umbilical cord blood
Research Day Committee and Volunteers:
Dr. Fraser Scott (Chair), Dr. Jay Baltz, Amelia Buchanan, Dr. Marjorie Brand, Dr. Ketul Chaudhary, Dr. Angela Crawley, Dr. Dean Fergusson, Dr. Anouk Fortin, Emma Grigor, Jennifer Ganton, Dr. Ian Lorimer, Dr. Tim Ramsay, Dr. Luc Sabourin, Dr. William Stanford, Dr. Duncan Stewart, Greg Canham, Lynn Crosbie, Kathy Patterson, Melanie Genereaux, Catherine Geci, Wayne Low, Terri Van Gulik
Supporters:

The Ottawa Hospital: Inspired by research. Driven by compassion
The Ottawa Hospital is one of Canada's largest learning and research hospitals with over 1,100 beds, approximately 12,000 staff and an annual budget of over $1.2 billion. Our focus on research and learning helps us develop new and innovative ways to treat patients and improve care. As a multi-campus hospital, affiliated with the University of Ottawa, we deliver specialized care to the Eastern Ontario region, but our techniques and research discoveries are adopted around the world. We engage the community at all levels to support our vision for better patient care. See www.ohri.ca for more information about research at The Ottawa Hospital.
University of Ottawa: —A crossroads of cultures and ideas
The University of Ottawa is home to over 50,000 students, faculty and staff, who live, work and study in both French and English. Our campus is a crossroads of cultures and ideas, where bold minds come together to inspire game-changing ideas. We are one of Canada's top 10 research universities—our professors and researchers explore new approaches to today's challenges. One of a handful of Canadian universities ranked among the top 200 in the world, we attract exceptional thinkers and welcome diverse perspectives from across the globe. www.uottawa.ca
Media Contact
Amelia Buchanan
Senior Communication Specialist
Ottawa Hospital Research Institute
Office: 613-798-5555 x 73687
Cell: 613-297-8315
ambuchanan@ohri.ca