Newsroom
Pre-treated cells boost blood vessel repair
November 29, 2017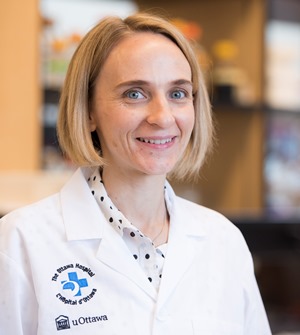 Endothelial colony-forming cells (ECFCs) are stem-like cells found in umbilical cord blood that help repair damaged blood vessels. They may hold promise for the treatment of stroke, heart attack and blocked leg arteries. However, their rate of blood vessel repair is slow when they are injected into the body. Dr. Marjorie Brand and her team found a way to boost ECFCs' repair ability in a study published in Stem Cell Reports. The team learned that blood vessel repair pathways are slowed down in ECFCs, and need to be activated by signals from the environment. Dr. Brand's team was able to improve the repair ability ECFC's by treating them with a combination of epigenetic drugs before transplanting them into an animal model with damaged blood vessels. These pre-treated ECFCs were better at migrating to the damaged area, and helping to form new blood vessel networks. The pre-treated ECFCs also restored blood flow in animal models much faster, which is important for saving organ function.

"We've found a way to boost the ability of stem-like cells to repair damaged blood vessels harnessing their epigenomes," said Dr. Brand. "Our finding may be able to help patients with vascular diseases in the future."

Authors: Sylvain Fraineau, Carmen G. Palii, Brian McNeill, Morten Ritso,William C. Shelley, Nutan Prasain, Alphonse Chu, Elodie Vion, Kristy Rieck, Sharmin Nilufar, Theodore J. Perkins, Michael A. Rudnicki, David S. Allan, Mervin C. Yoder, Erik J. Suuronen, and Marjorie Brand

Funding: This research was possible because of generous donations to The Ottawa Hospital for Regenerative Medicine research. The researchers also received support from the Canadian Institutes of Health Research, the Department of Medicine, University of Ottawa, the Heart and Stroke Foundation of Canada, and the Cushing Fund.


The Ottawa Hospital: Inspired by research. Driven by compassion
The Ottawa Hospital is one of Canada's largest learning and research hospitals with over 1,100 beds, approximately 12,000 staff and an annual budget of over $1.2 billion. Our focus on research and learning helps us develop new and innovative ways to treat patients and improve care. As a multi-campus hospital, affiliated with the University of Ottawa, we deliver specialized care to the Eastern Ontario region, but our techniques and research discoveries are adopted around the world. We engage the community at all levels to support our vision for better patient care. See www.ohri.ca for more information about research at The Ottawa Hospital.
University of Ottawa: —A crossroads of cultures and ideas
The University of Ottawa is home to over 50,000 students, faculty and staff, who live, work and study in both French and English. Our campus is a crossroads of cultures and ideas, where bold minds come together to inspire game-changing ideas. We are one of Canada's top 10 research universities—our professors and researchers explore new approaches to today's challenges. One of a handful of Canadian universities ranked among the top 200 in the world, we attract exceptional thinkers and welcome diverse perspectives from across the globe. www.uottawa.ca
Media Contact
Amelia Buchanan
Senior Communication Specialist
Ottawa Hospital Research Institute
Office: 613-798-5555 x 73687
Cell: 613-297-8315
ambuchanan@ohri.ca