Newsroom
Stroke repair: study shows single pathway crucial for generating new stem cells, neurons and blood vessels
December 20, 2017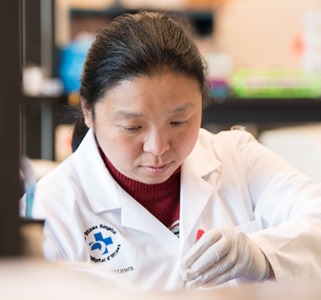 If you were to suffer a stroke, would you want your brain to create more stem cells, replace the damaged neurons or repair the broken blood vessels? A new study led by Dr. Jing Wang shows that fine tuning a single molecular pathway may allow the brain to accomplish all three of these crucial tasks. The study, published in Stem Cell Reports, focuses on a pathway called aPKC-CBP. Dr. Wang and her colleagues found that blocking this pathway early after a stroke can stimulate pericytes (which wrap around blood vessels in the brain) to become stem cells. But if you permanently block the pathway, it prevents the stem cells from becoming neurons and exhausts the pericytes so they can't help with blood vessel repair during the chronic phase after a stroke. The paper thus suggests that the aPKC-CBP pathway may need to be blocked at the early phase of a stroke, then reactivated during the chronic phase of a stroke to get the optimal mix of cells for stroke repair and functional recovery. While this research was done in laboratory models, compounds that target the aPKC-CBP pathway are already being tested in human clinical trials for other conditions.

Authors: Gouveia A, Seegobin M, Kannangara TS, He L, Wondisford F, Comin CH, Costa LDF, Béïque JC, Lagace DC, Lacoste B, Wang J.

Funding: This research was possible because of generous donations to The Ottawa Hospital for Regenerative Medicine research. The researchers also received support from the J.P. Bickell Foundation, the Heart and Stroke Foundation (HSF), the HSF Canadian Partnership for Stroke Recovery and the Canadian Institutes of Health Research.


The Ottawa Hospital: Inspired by research. Driven by compassion
The Ottawa Hospital is one of Canada's largest learning and research hospitals with over 1,100 beds, approximately 12,000 staff and an annual budget of over $1.2 billion. Our focus on research and learning helps us develop new and innovative ways to treat patients and improve care. As a multi-campus hospital, affiliated with the University of Ottawa, we deliver specialized care to the Eastern Ontario region, but our techniques and research discoveries are adopted around the world. We engage the community at all levels to support our vision for better patient care. See www.ohri.ca for more information about research at The Ottawa Hospital.
University of Ottawa: —A crossroads of cultures and ideas
The University of Ottawa is home to over 50,000 students, faculty and staff, who live, work and study in both French and English. Our campus is a crossroads of cultures and ideas, where bold minds come together to inspire game-changing ideas. We are one of Canada's top 10 research universities—our professors and researchers explore new approaches to today's challenges. One of a handful of Canadian universities ranked among the top 200 in the world, we attract exceptional thinkers and welcome diverse perspectives from across the globe. www.uottawa.ca
Media Contact
Jennifer Ganton
Director, Communications and Public Relations
Ottawa Hospital Research Institute
Office: 613-798-5555 x 73325
Cell: 613-614-5253
jganton@ohri.ca