Newsroom
News Release
Could viruses take cancer immunotherapy to the next level? Study shows viruses and checkpoint inhibitors work together to cure resistant breast cancer in mice
January 3, 2018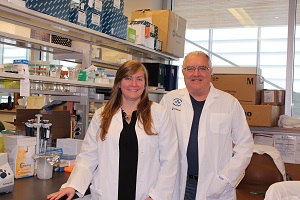 Immunotherapy, which helps the body's immune system attack cancer, has revolutionized treatment for cancers such as melanoma and leukemia. However, many other kinds of cancer remain resistant. A new study led by researchers at The Ottawa Hospital and the University of Ottawa suggests that a combination of two immunotherapies (oncolytic viruses and checkpoint inhibitors) could be much more successful in treating breast cancer and possibly other cancers. Their study, which uses mouse models, is published in Science Translational Medicine.

 "It was absolutely amazing to see that we could cure cancer in most of our mice, even in models that are normally very resistant to immunotherapy," said Dr. Marie-Claude Bourgeois-Daigneault, lead author of the study and a postdoctoral fellow in Dr. John Bell's group at The Ottawa Hospital and the University of Ottawa. "We believe that the same mechanisms are at work in human cancers, but further research is needed to test this kind of therapy in humans."

In the current study, the researchers focused on "triple negative" breast cancer, which is the most aggressive and difficult-to-treat kind of breast cancer.

The researchers studied three mouse models of triple negative breast cancer, and found that all were resistant to a checkpoint inhibitor which is commonly used to treat other kinds of cancer. They also found that while an oncolytic virus called Maraba could replicate inside these cancers and help the mouse's immune system recognize and attack the cancer, the virus alone had minimal impact on overall survival.

The researchers then tested the virus and checkpoint inhibitor together in models that mimic the metastatic spread of breast cancer after surgery, which is very common in patients. They found that this combination cured 60 to 90 percent of the mice, compared to zero for the checkpoint inhibitor alone and 20 to 30 percent for the virus alone. In these models, the virus was given before the surgery and the checkpoint inhibitor was given after.

"Our immune system is constantly trying to recognize and kill cancer cells, but the cancer cells are always trying to hide from it," explained Dr. Bell, senior scientist at The Ottawa Hospital and professor at the University of Ottawa. "When you infect a cancer cell with a virus, it raises a big red flag, which helps the immune system recognize and attack the cancer. But in some kinds of cancer this still isn't enough. We found that when you add a checkpoint inhibitor after the virus, this releases all the alarms and the immune system sends in the full army against the cancer."

A recently-published clinical trial confirmed that oncolytic viruses and checkpoint inhibitors have potential for treating melanoma, but this is the first study to show the potential in breast cancer. It is also the first study to test viruses and checkpoint inhibitors in a surgery and metastasis model, which is particularly relevant for patients.

Ongoing clinical trials are testing oncolytic viruses (including Maraba) in combination with checkpoint inhibitors in people with cancer. People who are interested in these trials at The Ottawa Hospital can read these frequently asked questions.

Acknowledgements and additional information

Bell's research is supported by generous donors to The Ottawa Hospital. This study was also supported by the Canadian Institutes of Health Research, the Terry Fox Research Institute, the Canadian Cancer Society, the Ontario Institute for Cancer Research, the Ottawa Regional Cancer Foundation, BioCanRx and the Alliance for Cancer Gene Therapy.


Maraba virus therapy was jointly pioneered by Dr. John Bell (The Ottawa Hospital, University of Ottawa), Dr. David Stojdl (Children's Hospital of Eastern Ontario, University of Ottawa) and Dr. Brian Lichty (McMaster University). Drs. Bell, Stojdl and Lichty founded a company called Turnstone Biologics which is advancing the development of the virus. Turnstone did not fund the research described here.


Bell is also the Scientific Director of BioCanRx, Co-leader of the Immuno-oncology Translational Research Initiative at the Ontario Institute for Cancer Research and founder of the Canadian Oncolytic Virus Consortium.


The research described here was published in Science Translational Medicine on January 3, 2018. The publication is titled "Neo-Adjuvant Oncolytic Virotherapy Before Surgery Sensitizes Triple-Negative Breast Cancer to Immune Checkpoint Therapy". The authors are: Marie-Claude Bourgeois-Daigneault, Dominic Guy Roy, Amelia Sadie Aitken, Nader El Sayes, Nikolas Tim Martin, Oliver Varette, Theresa Falls, Lauren Elizabeth St-Germain, Adrian Pelin, Brian Dennis Lichty, David Francis Stojdl, Guy Ungerechts, Jean-Simon Diallo and John Cameron Bell. The paper is featured on the cover of the journal, together with a similar study on brain cancer from a different group.


Multimedia: http://bit.ly/2BEPVRy.
The Ottawa Hospital: Inspired by research. Driven by compassion.
The Ottawa Hospital is one of Canada's largest learning and research hospitals with over 1,100 beds, approximately 12,000 staff and an annual budget of over $1.2 billion. Our focus on research and learning helps us develop new and innovative ways to treat patients and improve care. As a multi-campus hospital, affiliated with the University of Ottawa, we deliver specialized care to the Eastern Ontario region, but our techniques and research discoveries are adopted around the world. We engage the community at all levels to support our vision for better patient care. See
www.ohri.ca
for more information about research at The Ottawa Hospital.
University of Ottawa: A crossroads of cultures and ideas
The University of Ottawa is home to over 50,000 students, faculty and staff, who live, work and study in both French and English. Our campus is a crossroads of cultures and ideas, where bold minds come together to inspire game-changing ideas. We are one of Canada's top 10 research universities—our professors and researchers explore new approaches to today's challenges. One of a handful of Canadian universities ranked among the top 200 in the world, we attract exceptional thinkers and welcome diverse perspectives from across the globe.
www.uottawa.ca
Media Contact
Jenn Ganton
Director, Communications and Public Relations
Ottawa Hospital Research Institute
Office: 613-798-5555 x 73325
Cell: 613-614-5253
jganton@ohri.ca