Newsroom
World-first trial compares cow- and pig-derived surfactants to help premature babies breathe
August 2, 2017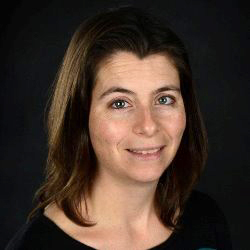 When babies are born prematurely in Canada, they have traditionally been given surfactant derived from cows to help them breathe properly, if required. This fatty substance coats the tiny airs sacs in the lungs, making it easier for them to open and close and for the baby to breathe easier. In contrast, babies in Europe and the U.S. typically receive surfactant derived from pigs. Experts have often wondered which is better, but Dr. Brigitte Lemyre was the first to try to answer this question with a randomized controlled clinical trial. Dr. Lemyre and her colleagues enrolled 87 preterm babies from The Ottawa Hospital, Hamilton Health Sciences and the Royal Alexandra Hospital into the study. While they didn't find any significant difference in survival, they did find that babies who received the pig surfactant required less oxygen support. A larger trial is being discussed. See PLOS ONE for details.

Dr. Lemyre is a neonatologist and clinician investigator at The Ottawa Hospital and CHEO and an associate professor at the University of Ottawa.

Authors: Lemyre B, Fusch C, Schmölzer GM, Rouvinez Bouali N, Reddy D, Barrowman N, Huneault-Purney N, Lacaze-Masmonteil T

Funding: This study was supported by the Ontario Ministry of Health and Long-Term Care and Chiesi Farmaceutici (in-kind). Clinical trials at The Ottawa Hospital are possible because of generous support from the community for Research to Improve Patient Care.


The Ottawa Hospital: Inspired by research. Driven by compassion
The Ottawa Hospital is one of Canada's largest learning and research hospitals with over 1,100 beds, approximately 12,000 staff and an annual budget of over $1.2 billion. Our focus on research and learning helps us develop new and innovative ways to treat patients and improve care. As a multi-campus hospital, affiliated with the University of Ottawa, we deliver specialized care to the Eastern Ontario region, but our techniques and research discoveries are adopted around the world. We engage the community at all levels to support our vision for better patient care. See www.ohri.ca for more information about research at The Ottawa Hospital.
University of Ottawa: —A crossroads of cultures and ideas
The University of Ottawa is home to over 50,000 students, faculty and staff, who live, work and study in both French and English. Our campus is a crossroads of cultures and ideas, where bold minds come together to inspire game-changing ideas. We are one of Canada's top 10 research universities—our professors and researchers explore new approaches to today's challenges. One of a handful of Canadian universities ranked among the top 200 in the world, we attract exceptional thinkers and welcome diverse perspectives from across the globe. www.uottawa.ca
Media Contact
Jennifer Ganton
Director, Communications and Public Relations
Ottawa Hospital Research Institute
Office: 613-798-5555 x 73325
Cell: 613-614-5253
jganton@ohri.ca